Disney Cars Online Biography
The World of Cars Online is a new virtual world based on the Cars film series. The game was under development with Open Beta, which launched on March 1, 2010.[1] There was a sneak peek of the World of Cars called the Test Track which started in October 2008 and ended in November 2009 to make way for Open Beta.[2] The site launched on June 29, 2010. Each car was given 2,010 coins, an Open Beta Participant Badge, and a Founder Badge.
World Of Cars was closed down by Disney in the Winter of January 2012. Some World Of Cars players later found out that World Of Cars was hacked by a unknown pro hacker. Expert players of the original World Of Cars soon will open "World of Cars 2" as a comeback to the original World Of Cars. It will open in the Summer of June 2012.
The game has 10 of 13 courses: Carbuertor county speedway Willy's butte rally Twistin Tailfin trails [before that it was called twistin tailfin track] Filmore's Fields rally Tailgator speedway Big heartland speedway Backfire canyon speedway Petroleum Super city speedway Motor City Speedway of the South [from cars the video game piston cup race #2] Los Angeles International Speedway [from cars the video game piston cup race #5]
mini games: radiator springs - luigi's tire toss, lightning storm space assault[10 levels], ramone's paint blaster[4 levels] filmore's fields- organic fuel mixing, man and tractor tipping willy's butte- mater's sling shoot
points to race at the piston cup tracks: tailgator speedway- 60,000 points big heartland speedway- 200,000 points backfire canyon speedway- 380,000 points petroleum super city speedway- 640,000 points motor city speedway of the south- 1,000,000 points los angeles international speedway- 1,000,001 points
shops: radiator springs- great outdoors store, luigi's casa della tires, ramone's house of body art, sarge's surplus hut, cozy cone decorations shop, fillmore's organic fuels, mater's junkyard store, lightnings pro-race shop, spy shop redhood valley- organic fuels shop, spy shop willy's butte- organic fuels shop, spy shop fillmores field's- organic fuels shop, spy shop
gears: gear 1 does 50mph gear 2 does 70mph gear 3 does 100mph gear 4 does 120mph gear 5 does 150mph
panel: your profile friend's list your home
slots: there are four slots to where you can house lazer's or fizzy fuels centered around a horn in the center
areas: downtown radiator springs, fillmore's fields, willy's butte, and redhood valley. tired flats [never opened], overheat peak [never opened], and double clutch gulch [never opened].
Points and car coins: the points determine your overall ranking in the game while the coins are used to buy things from the local shops and earn coins from races and playing the five minigames in the game.
Progressing: The game can't progress however if you either get a membership or winning the piston cup race in the game. The points can reach 1,000,001 while the coins can reach 9,999,999.
The online game closed down on 8 February 2012 but the website is still available on-line to access.
Disney Cars Online
Disney Cars Online
Disney Cars Online
Disney Cars Online
Disney Cars Online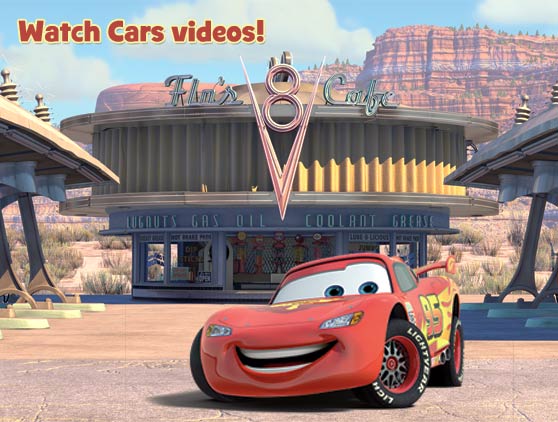 Disney Cars Online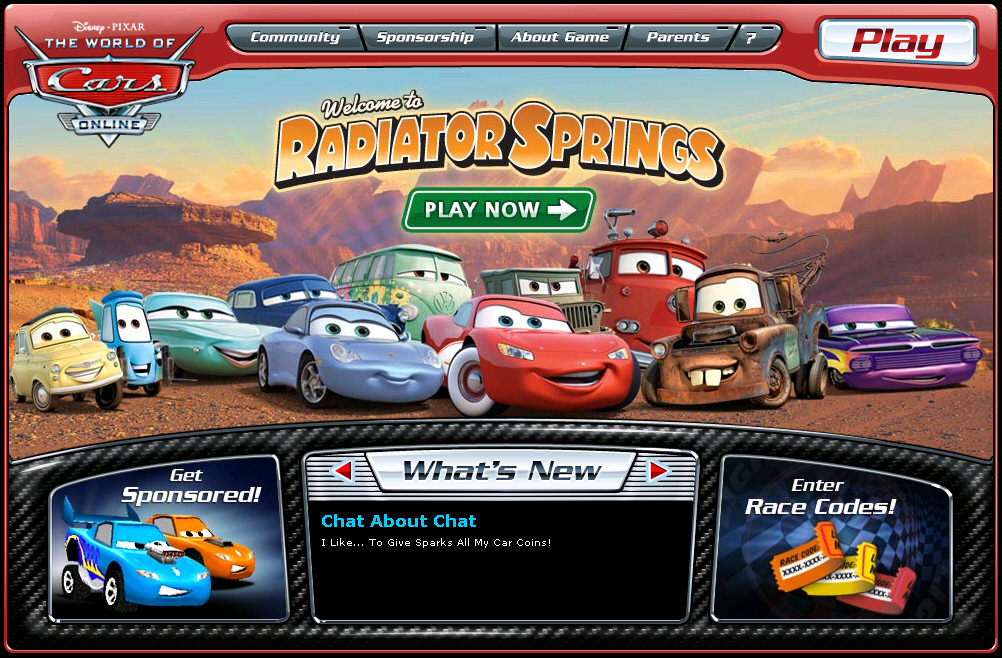 Disney Cars Online
Disney Cars Online
Disney Cars Online
Disney/Pixar's World Of Cars Online Premiere Event With Actor Cheech Marin
Disney/Pixar's World of Cars Online- Red Carpet Event